Luminokrom is a photoluminescent paint that captures light during the day and creates the night a bright guide, without any electricity consumption or CO2 emission. Simple to deploy, this luminescent marking is of very high performance, with a visibility of more than 10am in the dark. This Made in France technology is protected by a patent.
LUMINOKROM®, Olikrom Inside technology
LuminokRom® is an innovation developed by Olikrom, company located in Pessac in France
This innovation has been developed within the R & D department. The products are manufactured in the Olikrom plant in Pessac.
Luminescent paint – A unique expertise at the service of the city of tomorrow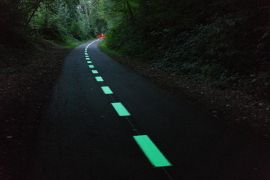 LuminoKrom is a French innovation driven by the start-up OliKrom. It is the first photoluminescent road paint, developed to make nighttime mobility safer without electricity, without light pollution, without installation disrupting the environment.
LuminoKrom, is the first photoluminescent road paint on the market capable of illuminating for 10 hours at night. This exceptional photoluminescent performance is protected by a patent. Several years of research and collaboration with the Eiffage Group were necessary to obtain a paint suitable for road use.
LuminoKrom is the only photoluminescent paint on the market which presents + 2 years of experience in technology. Since 2018, many communities have embraced this innovation. Cycle paths, pedestrian paths, locks, roundabouts, pedestrian crossings, … are equipped with luminescent markings and light up night after night, relentlessly, with the same intensity, always renewed. These achievements have educated us on the most relevant practices with regard to the performance of luminescent paint LuminoKrom® and open up new uses for this autonomous luminous signage, using renewable energy, more economical and more eco-sustainable.
We would like to thank all these communities here who placed their trust in us and allowed us to put our scientific skills at the service of collective security. LuminoKrom® luminescent paint is now deployed throughout France and is starting to attract our European neighbors. You have a project, questions? Our team is at your disposal.
LuminoKrom® luminous paint, Luminous markings, phosphorescent paint