Customer and user testimonials
They talk about LuminoKrom®, the first photoluminescent road marking
LuminoKrom® paint is charged by natural or artificial light and lights up for 10 hours, without power supply or CO2 emissions. LuminoKrom® is a breakthrough innovation created and patented by the company OliKrom in Pessac (33). The solution has been deployed both indoors and outdoors since 2018, on bike paths, greenways or industrial sites to make travel in the dark safer.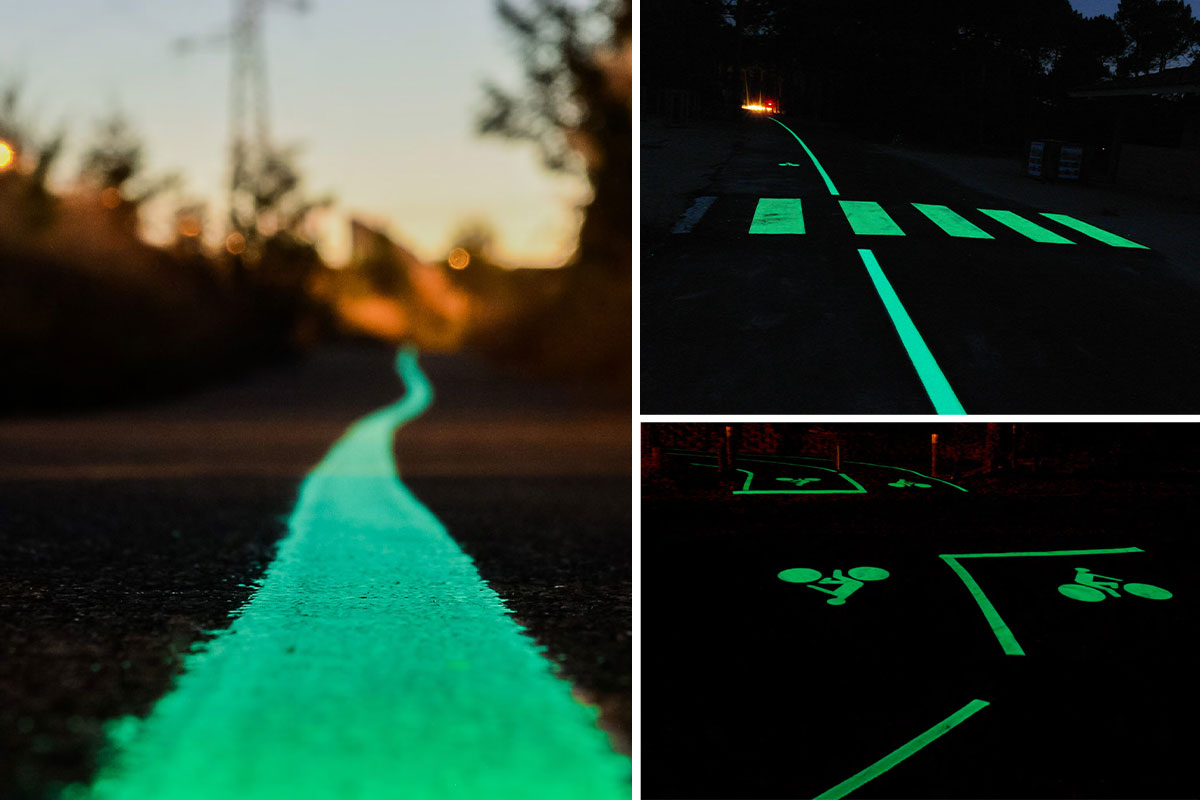 Local authorities voices
Saint-Paul de la Réunion City Hall
"I see that the objective has been reached and that the result is of high quality. We have had very positive feedback from users, bicycle collectives and the Environment Department. So we will definitely apply this marking in our future operations."
M.Clef, Infrastructure Department
Deputy Mayor of Pessac
"Some people would refuse to take this bike path and local residents demanded the installation of street lighting, but it was too expensive! To light this path, it would have been necessary to dig trenches, disturb tree roots and install relatively low light poles. Moreover, Pessac was the first municipality of more than 50,000 inhabitants to have tested, in France, the extinction of public lighting at night."
Eric Martin, La Tribune
Elected official in charge of works in Millau
"This allows us to have lighting in unlit areas without having to undertake major civil engineering work. It is not aggressive lighting but very discreet. This fits with the municipal ambition to fight against light pollution."
Bernard Grégoire
Deputy Mayor for Mobility
"The first assessment is very positive, insofar as we see an efficiency at night. This allows the cyclist to feel secure in a poorly lit area because we can't put a vertical mast of public lighting on the Pâquier."
Gilles Bernard, Le Dauphiné  
Users' words
Bicycle user for a daily commute to work
 "The bike path goes through the forest and it's very dark at night. Until now I avoided taking it in the winter when I came back from work. Since the path was painted, I take it much more often, I feel reassured. It's amazing to see that strip light up in the middle of the night."
Marie
Committee Pro Vélo Chablais
"Between two communities where there is no street lighting, it makes a difference! Even with a light on your bike, it really helps."
Cécilia
Residents of Vionnaz
"It's more reassuring, especially when you come home quite late. It stands out clearly against the ground, it gives good guidance on the bike path. The quality of the paint is really impressive."
Sinah and Frédéric
Read more
The phenomenon of luminescence (via phosphorescence in particular) has been known for a long time indoors (for stickers in children's rooms, for example) but "until the summer of 2018 – the date of the first application of LuminoKrom® – this property could not be used outdoors because it was not resistant to weathering and aggression such as rain and ultraviolet rays," recalls Hervé Dumont, technical director of Eiffage Route.
In 2018, after four years of research and collaboration with the Eiffage Group, LuminoKrom® photoluminescent paint was successfully applied to a first bicycle path in Pessac (33). In 2019, this innovation in the field of road infrastructure is approved by the Roads and Streets Innovation Committee. In 2020, LuminoKrom® luminous marking is nominated for the Road Safety Innovation Award. By the end of 2022, LuminoKrom® marking will secure more than 200 bicycle paths and greenways in France and abroad (Belgium, Burundi, Canada, Luxembourg, Nigeria, Senegal, Switzerland…).
From now on, LuminoKrom® innovation puts luminescence at the service of safety and soft mobility.
You have a project, questions? Our team is at your disposal.