LuminoKrom photoluminescent marking, a cycle path along the RD920 Chateauroux (36)
13 May 2019
On May 13 and 14, 2019, the LuminoKrom photoluminescent marking is fitted to the new 1.1 km cycle path near Châteauroux (36).
LuminoKrom® celebrates its first project in Chateauroux
The LuminoKrom® marking was applied in a 10 cm wide continuous band along the cycle track by the Eiffage group and its AER team. As a reminder, the LuminoKrom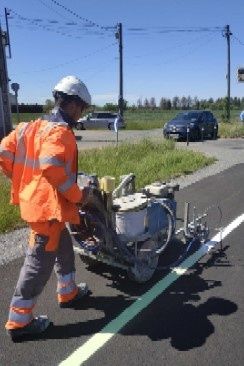 paint was developed by the company OliKrom in partnership with the Eiffage group as part of the I-Street project, certified by the French Environment and Energy Management Agency (ADEME), within the framework of the Program of Future Investments (PIA) "Road of the future".
This patented technology gives coatings the special feature of emitting light without any power source. They recharge naturally in the sun and / or in the presence of an artificial light source (interior lighting, car headlight, …) to emit a luminescent path that shines over 10 10 hours
For several months, several bike paths have been equipped with this technology. Feedback from users indicates that the "LuminoKrom® light guide" is reassuring to anticipate turns (rain conditions, braking actions, …) but also avoid obstacles, know where you are.
Increase the visibility on the pathcycle
According to the study carried out by the IFSTTAR (French Institute of Science and Technology of Transportation, Planning and Networks), LuminoKrom® paint increases the visibility distance of a cyclist to more than 80 meters at the beginning of the night, and 30 meters at the end of the night, compared to 8 meters with traditional lighting.
For this "guide" function to be valuable, it is required to create cycle path longer than 100m to give the necessary perspective (a single feature can't do this). LuminoKrom® marking must be done in an unlit environment. and/or in a city that turns off the public lighting part of the night.