LuminoKrom® White Reflective
Photoluminescent urban paint for traffic and non-traffic areas
Luminescent paint: charges during the day and lights up at night
Color: white retroreflective
Use: road safety
Performance
High luminosity duration, certified Class E (CE ISO17398 standard).
Recharges in a few minutes, even under cover in the middle of the forest or in poor conditions (rain, fog…).
French patented technology.
Dosage 800 g/m². Minimum packaging : 10 kg.
From 83€/m²
Request a quote
Technical specifications
Works without electricity or CO2 emissions
Day/night color: almond green/green
High anti-slipperiness (NF EN1436 standard): SRT > 0.50 (0.70 with the addition of aggregates)
Daytime visibility: Qd>100 mcd/lux/m².
Retroreflection RL>150 mcd/lux/m².
High Performance Luminescence (CE ISO17398 standard): Class E
(+1800mcd/m2 at 2 min; +55mcd/m2 at 1h), measured by a COFRAC accredited laboratory
Paints resistant to abrasion, repeated use and general wear and tear
Good resistance to freeze/thaw cycles
Implementation:
800 g/m² to be applied on a white undercoat
Very easy to use: as fast and easy as a classic marking
Paint deposit recommended by spray/airless machine
Application on any type of surface: asphalt, concrete, concrete mix…
Packaging: 
10 kg and 20 kg
Fields of application luminescent retroreflective road paint
Dangerous curves, accident-prone road sections
Traffic circle curbs, locks, chicanes, breaks…
Singular points to secure
Circulated road domain (subject to experimentation protocol approved by the public authorities)
LuminoKrom® white luminescent road paint is a solvent-based photoluminescent paint. It is designed for high performance road marking and ensures a high level of safety due to its very good visibility by day and night.
The objective of photoluminescent road marking is to increase the visibility of singular points beyond the range of headlights of motorists, motorcyclists … Namely, to locate beyond the light of headlights to better anticipate the dangers in dark areas. A study conducted by the Gustave Eiffel Institute as part of the ADEME "I-Street" program shows that photoluminescent marking improves visibility at night. For a vehicle, the gain is evaluated at about 50 to 100 meters beyond the 30 meters of low beam.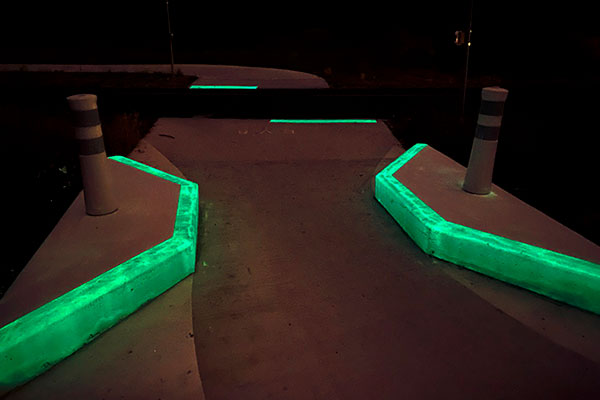 LuminoKrom® for Non-Traffic Area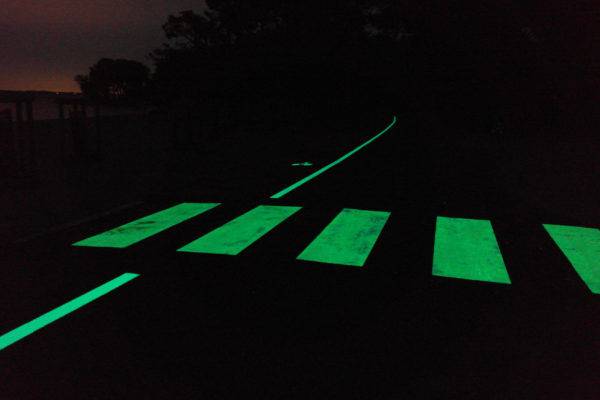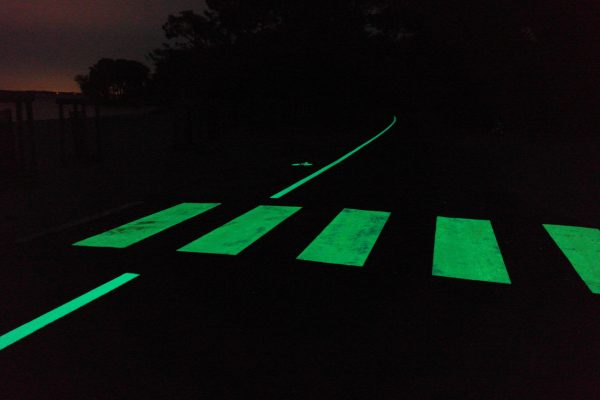 LuminoKrom® for Traffic Area