Description: LuminoKrom®, the light guide to secure closed parking lots and public spaces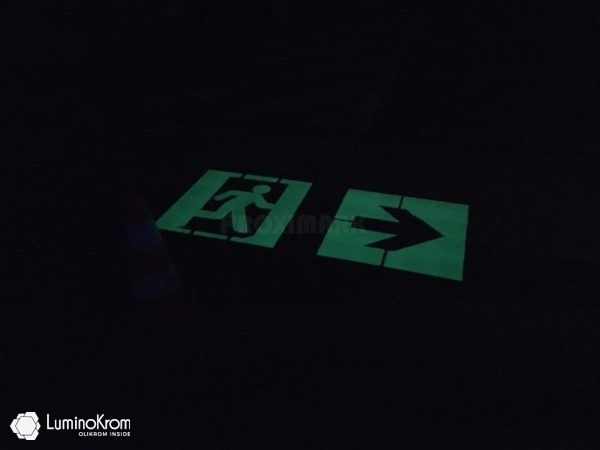 In the event of a power failure, the exit of pedestrians can be complicated in certain spacious and complex spaces, such as underground parking lots. The light panels signaling exits are not always visible, especially in the event of a fire when smoke builds up.
The use of pictograms on the ground with LuminoKrom® paint ensures the visibility of the path to follow in all circumstances.
The LuminoKrom® marking charges in a few minutes, even with electric light and takes over from the lighting in the event of a breakdown or outage. It remains visible for about ten hours allowing parking users to continue to find their way around in the event of a prolonged problem.
We have designed LuminoKrom® Vision+ paint for all cities wishing to turn off street lighting for part of the night for economic and ecological reasons, and for all municipalities wishing to increase the visibility of poorly lit areas. This luminescent marking remains visible day and night.
Guaranteed performance OliKrom Inside®
Excellent light duration (+ 10h). Highest luminescence on the market, category E (+1800 mcd/m2 at 2 min; +55 mcd/m2 at 1h.
Recharges in minutes, even in degraded conditions, under cover, or in fog.
Strong anti-slip (Standard NF EN1436): SRT> 0.45
Paints resistant to abrasion, repeated passage and wear in general. Good resistance to wear by friction.
Good resistance to freeze / thaw cycles
Implementation :
Spray paint recommended / airless machines
Application on all types of surfaces: bitumen, asphalt, concrete, asphalt …