Our LuminoKrom Products for the road sector
Description: LuminoKrom®, the light guide to reinforce safety on accident-prone roads
At night, certain road sections remain dangerous despite reinforced signage. The LuminoKrom marking is visible up to 80m at night compared to 30 to 50m for car headlights.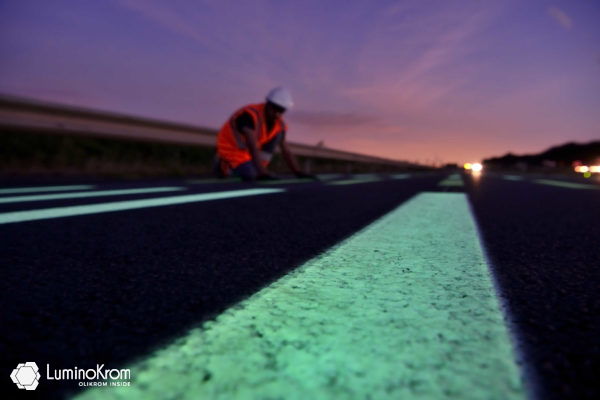 Its use makes it possible to reinforce the visibility of the marking at night beyond the headlights of a vehicle, Its use is particularly suitable for reinforcing road signs:
unlit roundabout,
turn in the countryside, in the undergrowth,
on mountain roads,
at the crossroads of cycle paths
pedestrian crossings
The improved visibility at night allows the driver to anticipate and adapt his driving.
This photoluminescent paint charges during the day and lights up in the dark without any consumption of electricity or CO2 emissions. The light from the headlights also allows the paint to be recharged in the exposed areas, thereby increasing its visibility throughout the night.
LuminoKrom paint was labeled at the end of 2019 by the Roads and Streets Innovation Committee (DIT / Cerema / IDRRIM) and full-scale experiments will be carried out in parallel with the certification process in accident-prone road areas.
Guaranteed performance OliKrom Inside®
Excellent light duration (+ 10h). Highest luminescence on the market, category E (+1800 mcd/m2 at 2 min; +55 mcd/m2 at 1h.
Recharges in minutes, even in degraded conditions, under cover, or in fog.
Strong anti-slip (Standard NF EN1436): SRT> 0.45
Paints resistant to abrasion, repeated passage and wear in general. Good resistance to wear by friction.
Good resistance to freeze / thaw cycles
Implementation :
Spray paint recommended / airless machines
Application on all types of surfaces: bitumen, asphalt, concrete, asphalt …