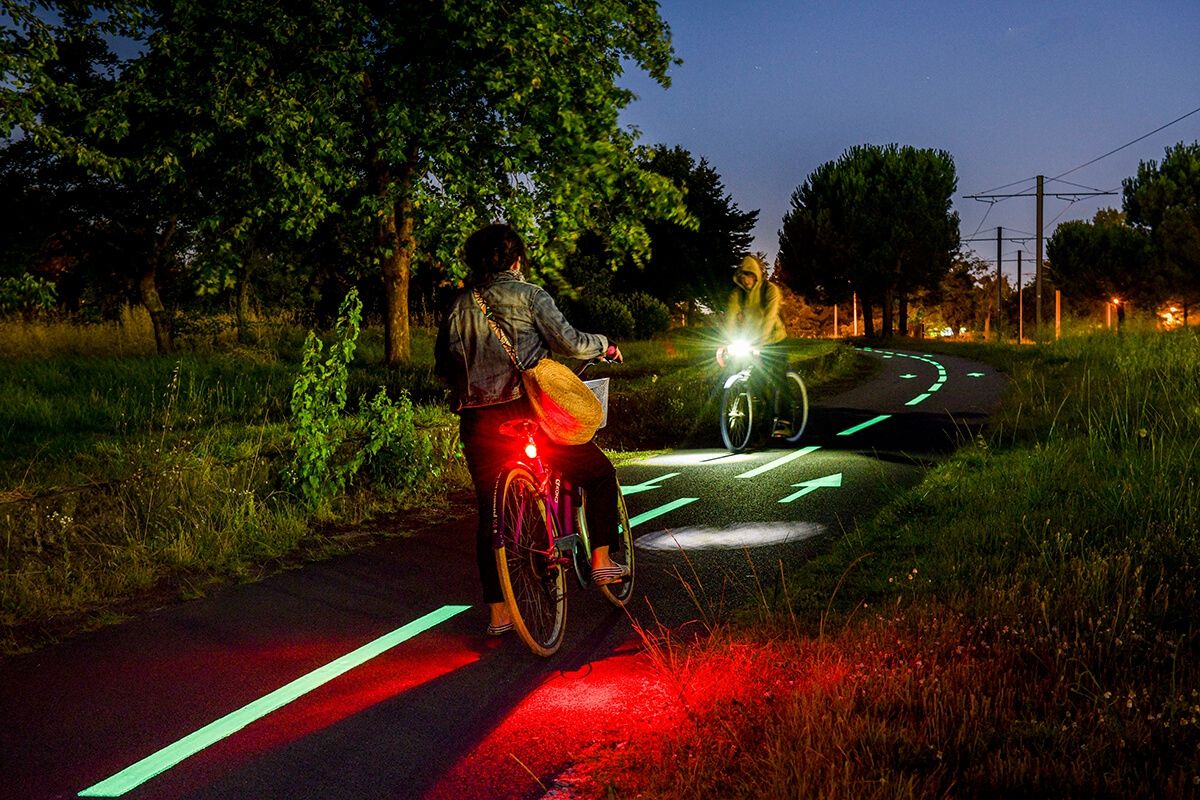 LuminoKrom® photoluminescent beaconing, saving renewable energy
LuminoKrom® luminous paint uses solar energy, a renewable source of light. For a community, the use of light markings does not entail any expense associated with the consumption of electricity. LuminoKrom® paint is made up of minerals that have the ability to store natural sunlight or artificial lighting to emit luminescence at night for more than 10 hours.
The photophysical process involved to lead to the photoluminescence property of LuminoKrom® materials allows for infinite paint recharge cycles. The simple presence of light, even in shady undergrowth, makes it possible to reload the marking. We have already more than two and a half years of hindsight on the deployment of light markings on cycle paths and the checks carried out demonstrate perfect stability of the light process.
LuminoKrom®, the savings of a quick and easy installation
In terms of implementation, LuminoKrom® paint is as easy as a classic marking. It makes it possible to secure cycle facilities and accident-prone areas (baffles, bends, motorway exits, etc.) without heavy civil engineering work and without investment in equipment, without significant maintenance or consumption costs.
Thus, equipping a kilometer of cycle path with LuminoKrom® luminescent paint costs around 5,000 euros, while electrification of this section would cost between 200,000 and 400,000 euros!
Ultimately, the LuminoKrom® innovation will help reduce the territorial divide by providing more security at a cost accessible to as many communities as possible. It is a simple way to quickly secure accident-prone areas (baffles, bends, motorway exits, etc.) which are not connected to electricity and would require a significant investment to benefit from it, like areas rural.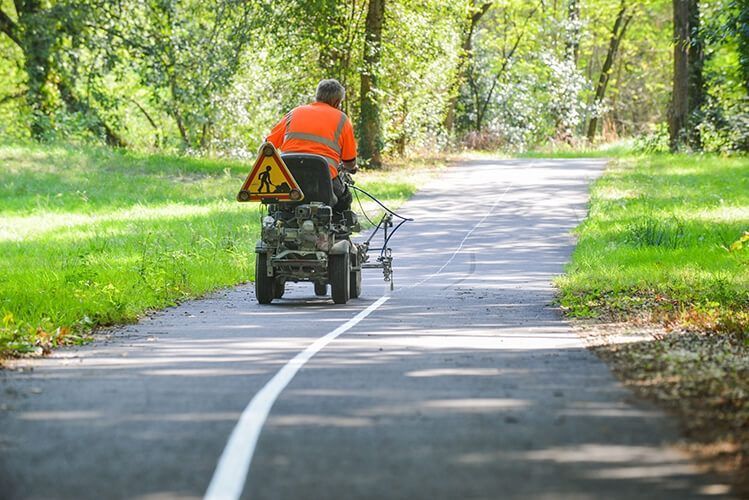 Request a quote
Illuminated cycle paths, factors of territorial attractiveness
For many municipalities, the creation of illuminated cycle paths using the LuminoKrom® marking is part of a strategy of territorial attractiveness, associated with ecotourism. Today, bicycle tourism is a booming economic sector (cf. the barometer of bicycle tourism in France). Its development corresponds to a profound change in tourism practices towards greater well-being, attention paid to the environment and to local consumption choices.
The use of light markings to secure the cycling area at night is today an important element of differentiation, of enhancement of its territory, allowing the practice of cycling with the family in complete safety, especially at the end of the summer evening.