LuminoKrom is a photoluminescent paint that captures light during the day and creates a light guide at night, without any consumption of electricity or CO2 emissions. Simple to deploy, this luminescent marking is of very high performance, with visibility of more than 10 hours in the dark. This Made In France technology is protected by a patent.
LuminoKrom®, an OliKrom Inside technology
LuminoKrom® is an innovation developed by OliKrom, a company based in Pessac, France
This innovation has been developed within the R & D department. The products are manufactured in the OliKrom factory in Pessac.
Unique expertise serving the city of tomorrow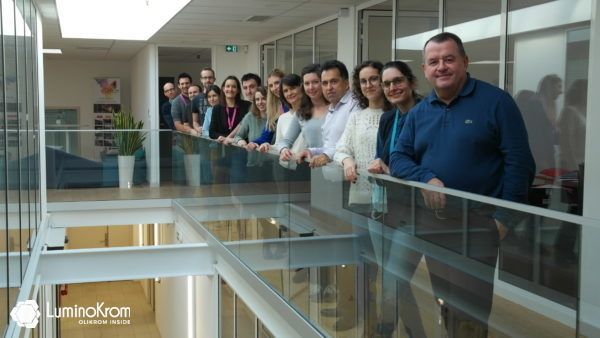 Unique expertise at the service of the city of tomorrow For a few years now, the bicycle has left its unique leisure function to regain its place as a daily mode of travel. Environmental and public health concerns support this movement, the cycling solution being at the same time synonymous with better air quality, greater daily sports practice and, more recent but not less, better physical distancing.
Our company has a strong collective ambition: to achieve 9% modal share, that is to say "the rate of trips made by bicycle for all trips made during the day" by 2024, compared to 3% today 'hui. Faced with this issue, communities are mobilizing and working to improve their network of cycle paths and greenways, their networking and their safety, while reducing the impact of these developments on the environment.
The start-up OliKrom, whose expertise stems from years of research at the CNRS, wanted to contribute to this collective ambition. It designed the first photoluminescent road paint, developed to make nighttime mobility safer without electricity, without light pollution, without installation disrupting the environment.
Since 2018, communities have taken advantage of this innovation, developed in collaboration with the Eiffage Group. Cycle paths and greenways are equipped with the LuminoKrom® marking and light up night after night, relentlessly, with the same intensity, always renewed. These projects have instructed us on the most relevant practices with regard to the performance of LuminoKrom® paint and open up new uses for this autonomous, renewable energy, more economical and more eco-sustainable luminous signage.
We would like to thank all these communities here who placed their trust in us and allowed us to put our scientific skills at the service of collective security.
LuminoKrom® luminescent markings are now being deployed throughout France and are starting to attract our European neighbors. You have a project, questions? Our team is at your disposal.
LuminoKrom, an Olikrom Inside innovation, born and produced in France.