Our LuminoKrom® products, luminescent road markings for traffic areas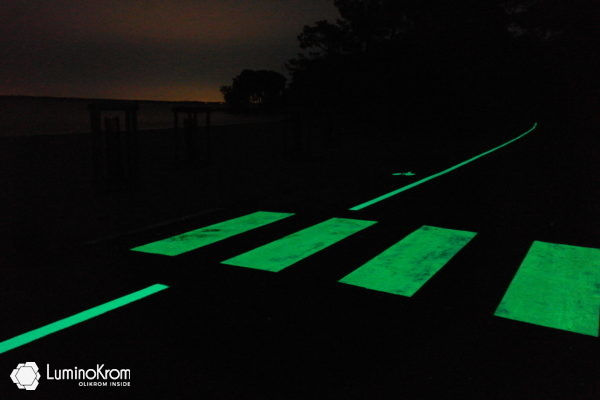 For road uses on busy pavements, since 2018 the certification process for LuminoKrom® photoluminescent paint has been underway on the RN2.
At the same time, experiments on roadways are carried out with the agreement of the public authorities * on accident-prone areas such as intersections, bends, pedestrian crossings, .. These sites are framed by experimentation protocols under the aegis of CEREMA . The ultimate goal is to validate and quantify the contribution of LuminoKrom luminescent markings in terms of road safety in areas without public lighting.
If your municipality is interested in carrying out an experiment on the traffic area? Get closer to our teams
Our range of luminescent paints
Guaranteed performance OliKrom Inside®
Excellent duration of light (+ 10h). Highest luminescence on the market, category E (+1800 mcd / m2 at 2 min; +55 mcd / m2 at 1 h)
Recharges in minutes, even in degraded conditions, under cover, or in fog.
Strong anti-slip (Standard NF EN1436): SRT> 0.45
Paints resistant to abrasion, repeated passes and wear in general. Good resistance to rubbing wear.
Good resistance to freeze / thaw cycles
Implementation :
Spray paint recommended / airless machines
Application on all types of surfaces: bitumen, asphalt, concrete, asphalt …
Packaging: 5 kg, 10 kg and 25 kg
Minimum order: 25 kg
Lighting, phosphorescence, accident zone, luminescence