LuminoKrom® for Traffic Area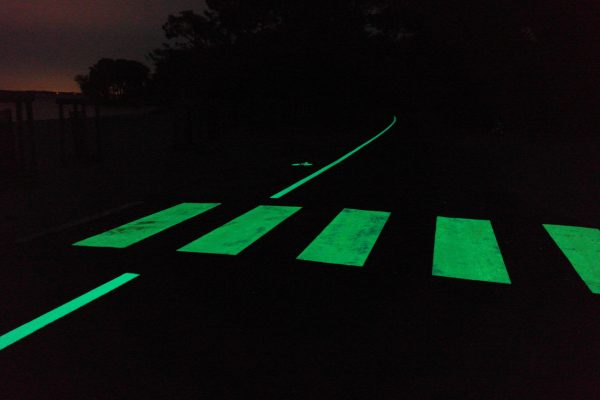 The luminescent road marking of trafficked areas
Do you want to reinforce the signage in an accident-prone area?
Experiments are currently being carried out on trafficked roads with the agreement of the public authorities* in accident-prone areas such as intersections, bends, crosswalks, etc.
These worksites are governed by experimentation protocols under the aegis of CEREMA. The objective is to validate and quantify the contribution of LuminoKrom luminescent markings in terms of road safety in areas without public lighting.
If your municipality is interested in conducting an experiment on the road network, please contact us. Contact our teams
Discover our marking products adapted to road safety:
LuminoKrom® White
LuminoKrom® Cold Coating
LuminoKrom® Yellow
Fields of use
Crosswalks
Dashed center lines
Continuous center lines
Edge lines
STOP signs
Yield strips
Markings (speed bumps, speed indicators,…)
Animation markings
Obstacle markings (dividers, narrowers, flower borders, etc.)
The Most

Captures light during the day and returns it at night
Improves visibility of singular points at night
Improves safety and orientation of users
Ecosustainable technology without electricity consumption
Made in France" production
Guaranteed Performance

Excellent duration of luminosity (+ 10h). Highest luminescence on the market, category G (+3000 mcd/m2 at 2 min; +80 mcd/m2 at 1 h)
Recharge in a few minutes, even under cover in the forest or in poor conditions (rain, fog, etc.)
Strong anti-slip (NF EN1436 standard): SRT > 0.55
Good resistance to wear
Good resistance to friction and freeze/thaw cycles
Request a quote
THE LUMINOKROM® PRODUCT CERTIFICATION PROCESS
The certification process for LuminoKrom® photoluminescent marking products is underway to allow for use in the Urban and Roadway fields on trafficked roads.
We have developed three ranges of photoluminescent products:
♦ LuminoKrom Urban: a white solvent-based photoluminescent paint. It is designed to secure singular points in urban environments.
♦ LuminoKrom Road Retro-Reflective: a white photoluminescent retro-reflective solvent paint. It is intended for high performance road marking and ensures a high level of safety due to its very good visibility by day and night.
♦ LuminoKrom White Coating: a two-component photoluminescent white cold coating. It is intended to secure pedestrian crossings in urban environments.
Do you need more information? Don't hesitate, our teams are at your service.