Photoluminescent road marking
to make night-time mobility safer
Parking marking products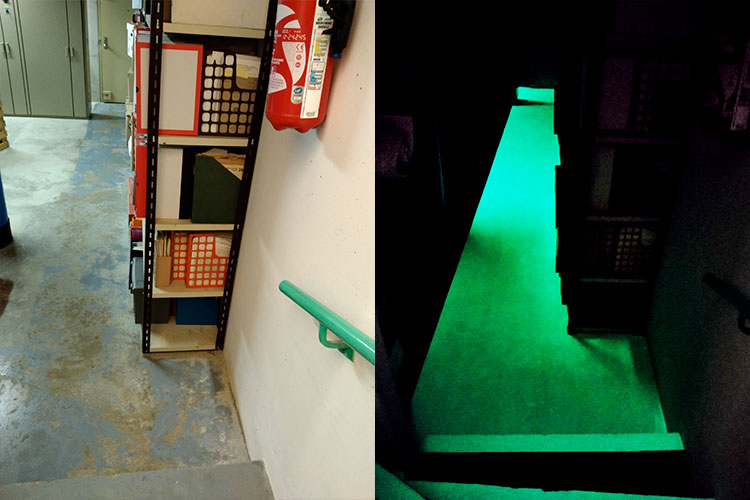 LuminoKrom® Photoluminescent Paints: An asset for securing underground car parks, building basements, industrial buildings, etc.
LuminoKrom luminescent paints help increase safety in the event of a power failure and / or fire.
During accidental power cuts, safety of movements must be ensured on industrial and private sites, whatever the reason and the duration of the incident:
Staff exit
Access and location identification by response teams (firefighters, maintenance)
Maintenance of surveillance operations …
During a fire, the illuminated "Emergency Exit" signs are not always visible in large industrial halls, especially when the fumes accumulate high up. LuminoKrom lighting beacons, used on the ground or in the lower parts of walls and fittings, improve the guidance of personnel and firefighters in the event of fires, as the smoke can reduce the visibility of overhead panels.
The implementation of pictograms on the ground with Luminokrom paint makes it possible to guarantee the visibility of the path to be followed in all circumstances. The LuminoKrom marking charges in a few minutes, even under electric light, and takes over from the lighting in the event of a failure or cut. It remains visible for about ten hours, allowing parking users to continue to find their way in the event of a prolonged problem.
Guaranteed performance OliKrom Inside®
Excellent light duration (+ 10h). Highest luminescence on the market, up to category G (+3000 mcd/m2 at 2 min; +80 mcd/m2 at 1h.
Recharges in minutes, even in degraded conditions, under cover, or in fog.
Strong anti-slip (Standard NF EN1436): SRT> 0.45
Paints resistant to abrasion, repeated passage and wear in general. Good resistance to wear by friction.
Good resistance to freeze / thaw cycles
Implementation:
Spray paint recommended / airless machines
Application on all types of surfaces: bitumen, asphalt, concrete, asphalt …
Packaging: 5 kg, 10 kg and 20 kg
Minimum order: 20 kg