Our LuminoKrom Photoluminescent Paints suitable for cycle paths: Reinforce night visibility
LuminoKrom® luminescent paint is high performance and enhances the visibility and safety of cycle paths throughout the night. It charges during the day and lights up in the dark, creating a "light guide" visible for +10 hours and up to 80m. without electricity, without expensive installation and without damaging impact on the environment.
LuminoKrom® luminescent paint contributes to the quality of the facilities by improving the practicability of cycle routes all year round at any time, even in difficult weather conditions. This luminous markup reassures cyclists who visualize the course of the track, allowing them to anticipate the presence of a bend or an obstacle …
The number of cycle paths equipped with LuminoKrom paint has increased, for daily commuting to work or for the charm of a night outing, summer and winter!
Today, more than 30 municipalities have enhanced the visibility of their cycle paths with the LuminoKrom® photoluminescent marking, for example Annecy (74), Pessac (33), Leucate (66), Evreux (27), Aix in Provence (13)…
Find all of our achievements in the section: REFERENCES / Our Workshops
Our range of luminescent paints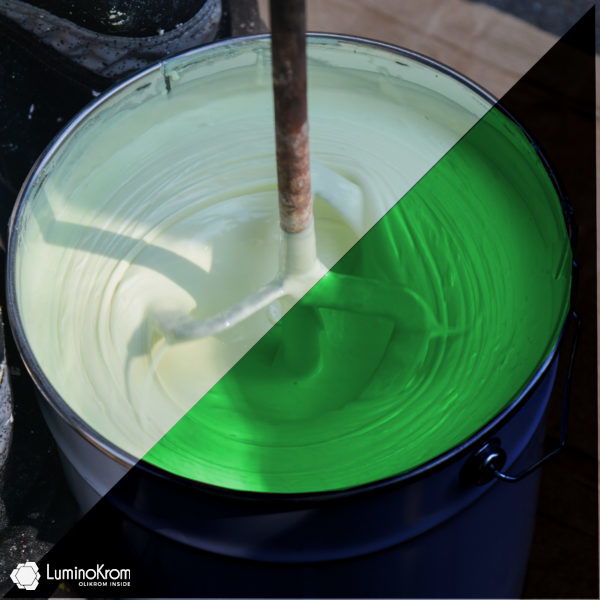 LuminoKrom urban painting - Almond Green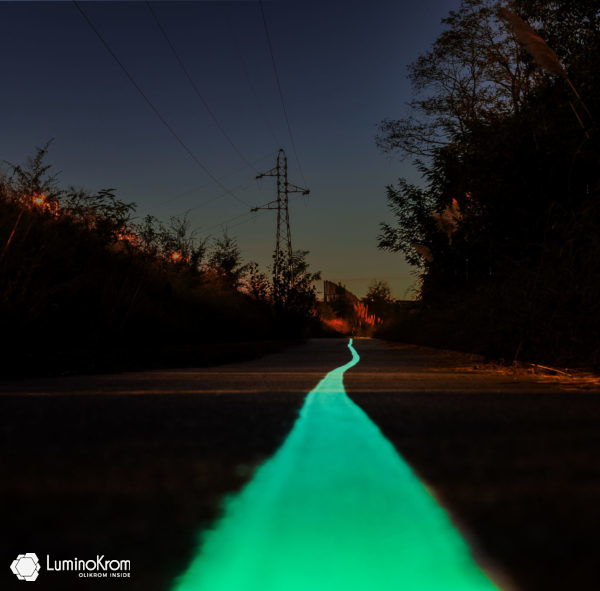 LuminoKrom presentation brochure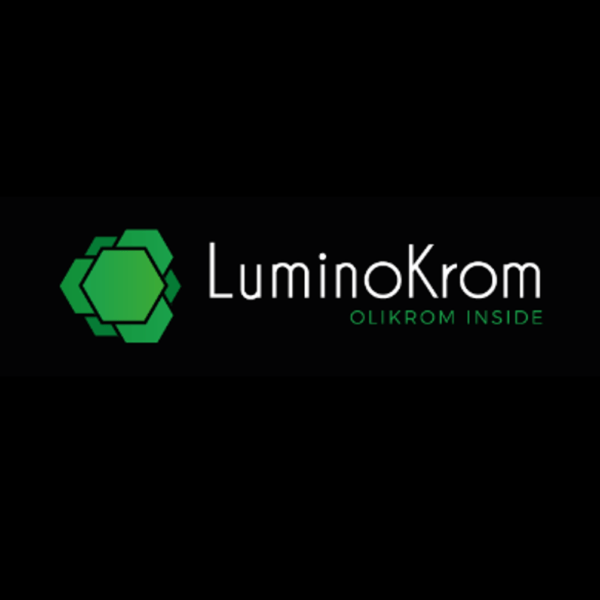 Our General Sales Conditions
Light beacons for cycle paths - Examples of realizations
Photoluminescent painting at the intersection of a cycle path and a road axis (Carcans, 33)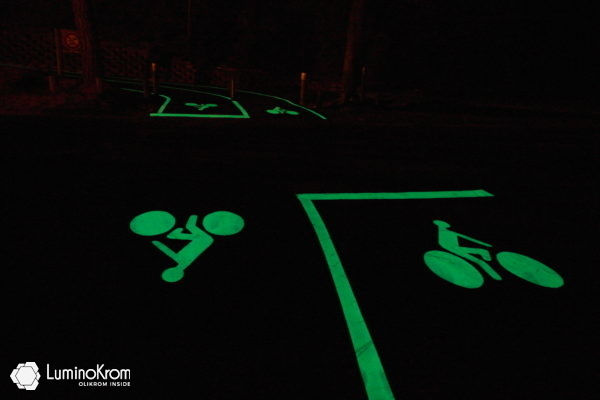 Photoluminescent marking in discontinuous central band on cycle path (Namur, Belgium)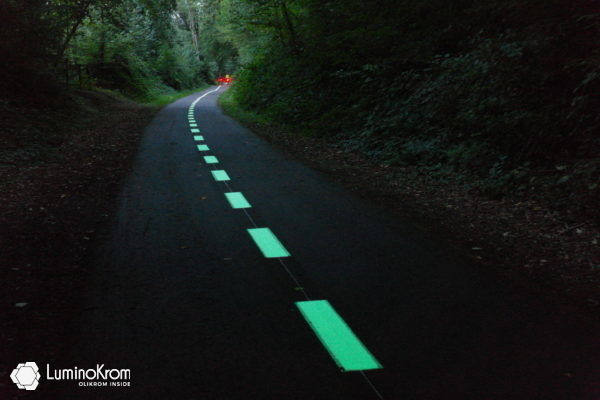 Types of LuminoKrom® marking depending on the layout:
Discontinuous or continuous axial lines
Shore lines.
STOP signals.
Bands to Give Way.
Pedestrian crossings.
Animation markings.
Bidirectional arrows.
Logos (Bike, pedestrian,…).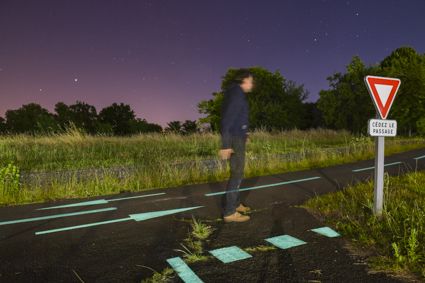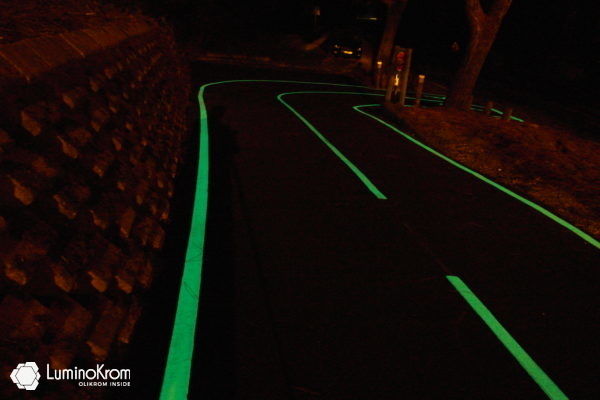 Guaranteed performance OliKrom Inside®
Excellent duration of light (+ 10h).
Highest luminescence on the market, category E (+1800 mcd / m2 at 2 min; +55 mcd / m2 at 1 h)
Recharges in minutes, even in degraded conditions, under cover, or in fog.
Strong anti-slip (Standard NF EN1436): SRT> 0.45
Paints resistant to abrasion, repetition and wear in general. Good resistance to rubbing wear.
Good resistance to freeze / thaw cycles
Implementation :
Spray paint recommended / airless machines
Application on all types of surfaces: bitumen, asphalt, concrete, asphalt …
Packaging: 5 kg, 10 kg and 25 kg
Minimum order: 25 kg