Photoluminescent road marking
to make night-time mobility safer
Illuminated Marking Non-traffic Area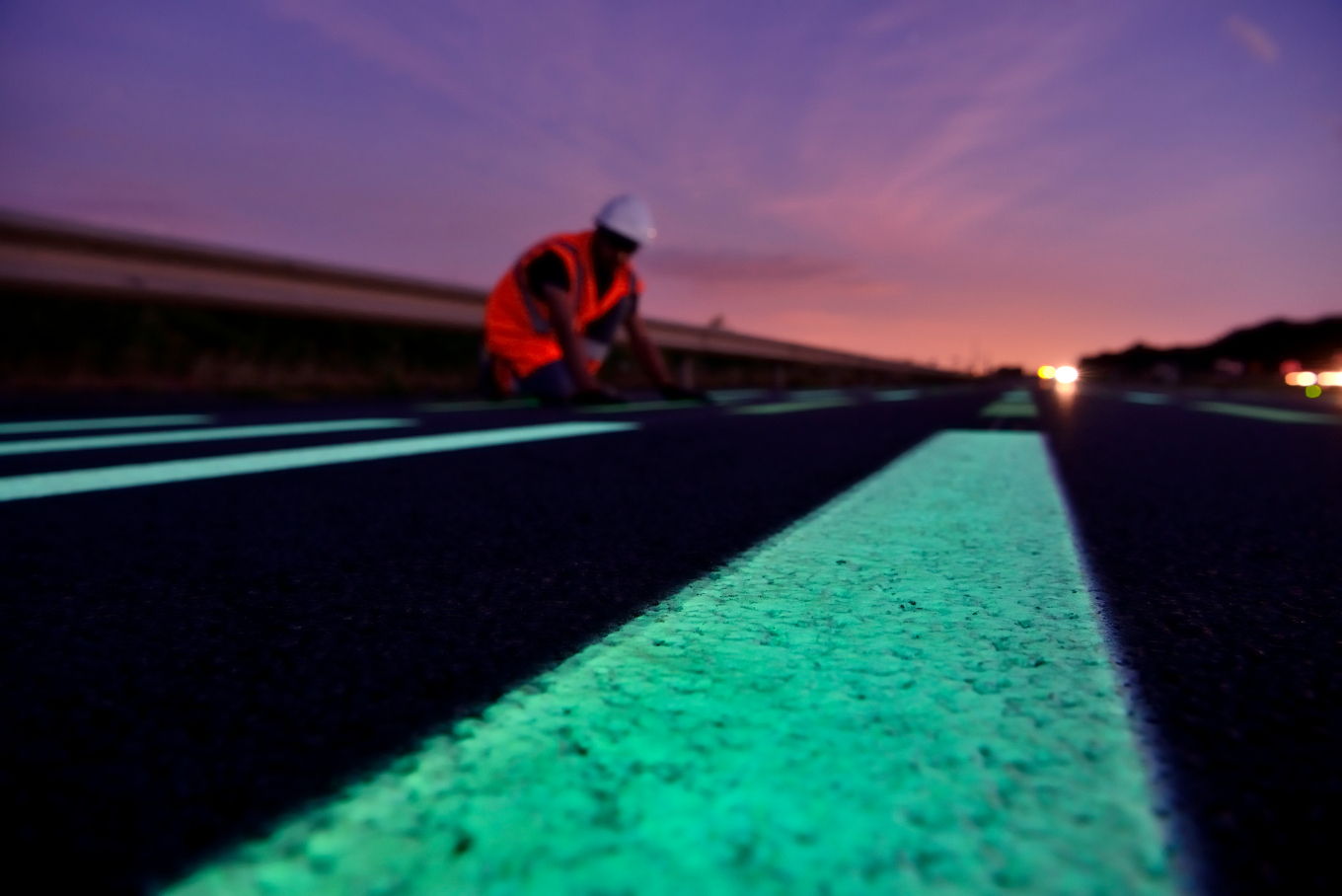 Our LuminoKrom® products, luminescent road marking for non-traffic areas
For road and urban marking, LuminoKrom® is currently deployed to reinforce night safety in so-called "non-traffic" areas. The use cases of photoluminescent paint are the edges of roundabouts, baffles, dividers, shrinkage, etc.
The objective of the photoluminescent beaconing is to increase the visibility of singular points beyond the reach of the headlights of motorists, motorcyclists, … Namely to locate oneself beyond the light of the headlights to better anticipate the dangers in dark areas.
A study carried out by the Gustave Eiffel Institute as part of the ADEME "I-Street" Program shows that photoluminescent marking improves visibility at night. For a vehicle, the gain is estimated at around 50 to 100 meters beyond the 30 meters from the low beam.
LuminoKrom® photoluminescent paint has been nominated for the Road Safety Innovation Prize (2020). This innovation is patented and allows light emission at night for +10 hours.
Guaranteed performance OliKrom Inside®
Excellent light duration (+ 10h). Highest luminescence on the market, up to category G (+3000 mcd/m2 at 2 min; +80 mcd/m2 at 1h.
Recharges in minutes, even in degraded conditions, under cover, or in fog.
Strong anti-slip (Standard NF EN1436): SRT> 0.45
Paints resistant to abrasion, repeated passage and wear in general. Good resistance to wear by friction.
Good resistance to freeze / thaw cycles
Implementation :
Spray paint recommended / airless machines
Application on all types of surfaces: bitumen, asphalt, concrete, asphalt …
Packaging: 10 kg and 20 kg
Minimum order: 20 kg