Why are bicycle paths marked with LuminoKrom® appreciated by users?
01 June 2023
When there is a significant lack of light, cyclists quickly find themselves in a very unsafe situation. Fear of the dark is very common, and night-time mobility becomes more complicated on cycle paths and greenways.
One in two French people is afraid of the dark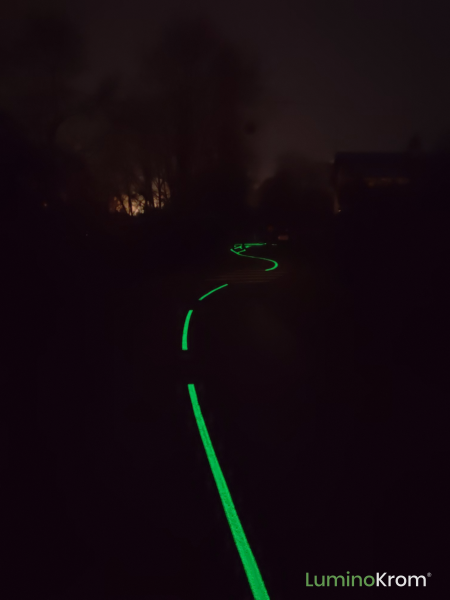 When we examine the question of fear of the dark, nearly one French person in two seems to be afraid of the dark.
Fear of the dark has always existed. When we're immersed in the dark, our bodies tense up and we quickly feel uncomfortable. It's mainly the extreme lack of visibility that plunges us into this uncomfortable situation.
This ancestral fear makes us feel more vulnerable to the dangers of the night. Obstacles are harder to identify. The anxiety that night brings is clearly observable on the roads.
More generally, the absence of lights at night on certain sections of track increases the feeling of insecurity. Turning off street lighting, for example, has an impact on our perception of safety. Visibility is reduced, and the fear of riding in the dark becomes omnipresent.
It is therefore necessary to make the cycling area safer and increase the visibility of users.
So how can we reassure cyclists at night?
Giving cyclists confidence when riding at night
This is exactly where LuminoKrom® marking comes into its own. Thanks to its patented technology and 10 hours of autonomy, our marking will remain illuminated all night long.
The primary objective is, of course, to help cyclists find their way around. For night-time travel, our photoluminescent road marking guides cyclists in the dark, helping them to find their way in space.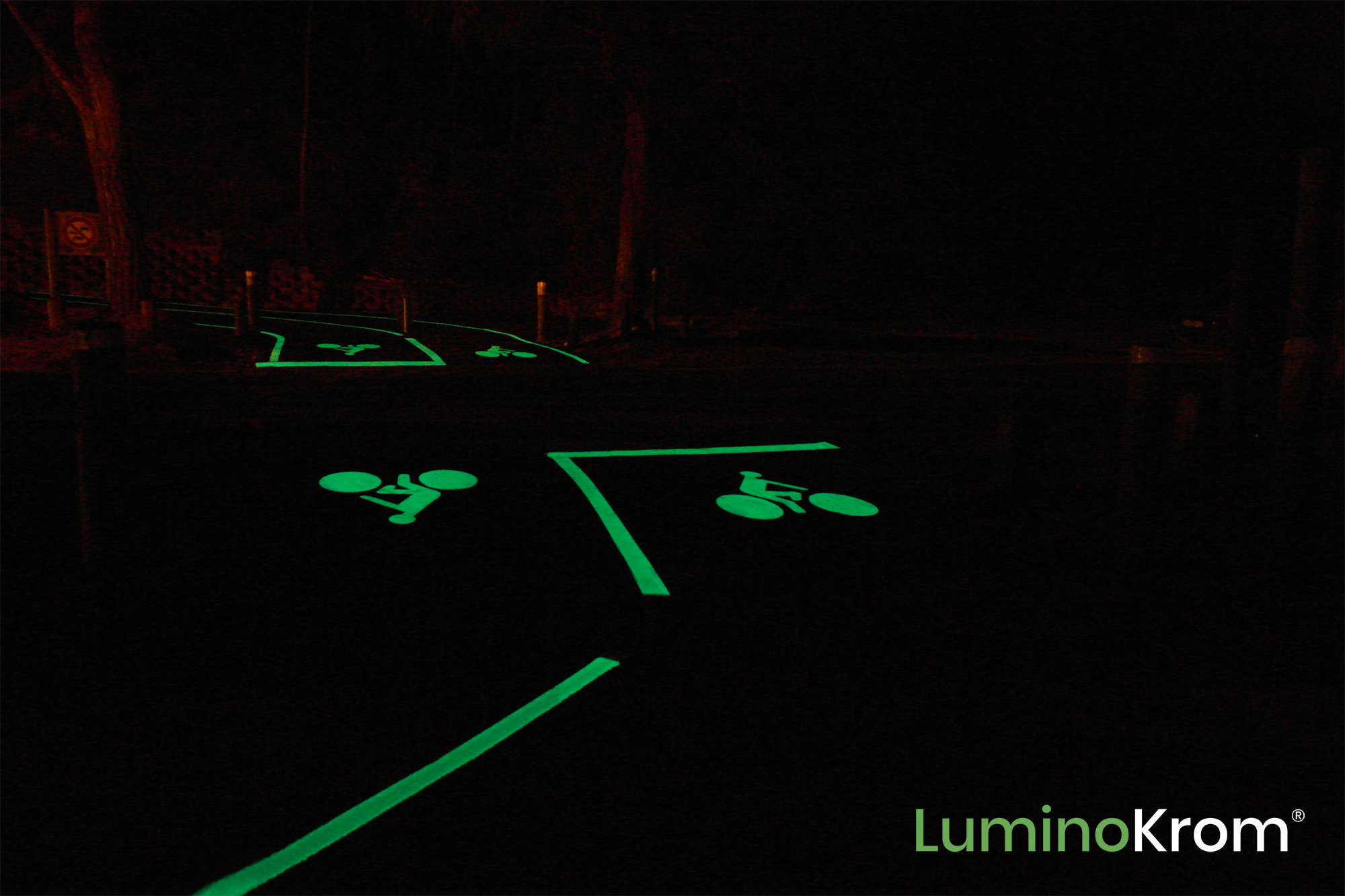 LuminoKrom® photoluminescent paint on a greenway – Pessac in France
Another aspect to consider is user comfort and safety. In fact, some lanes are set aside at night for fear of being used. This is particularly true of paths and roads that are poorly lighted at night, and do not give users much confidence.
Users of one of Pessac's greenways, in France, were familiar with this worrying situation on unlighted greenways few years ago.
"Some people would refuse to take our cycle path, and local residents demanded the installation of street lighting, but it was too expensive! To provide lighting for this path, we would have had to dig trenches, disturb tree roots and install relatively low lighting masts. Furthermore, Pessac was the first town in France with a population of over 50,000 to test the extinction of street lighting at night."

Eric Martin, Pessac Deputy Mayor
So, our LuminoKrom® paint took over. Its unbeatable efficiency and certified luminescence for over 10 hours allow us to support cyclists in these dark areas. It's important to reassure cyclists and accompany them on these less-traveled stretches of road. Cycling must be pleasant, and the experience must be relaxing and comforting.
"The path goes through the forest and is very dark at night.  Until now, I've avoided taking it in winter, on my way back from work. Since the piste has been painted with LuminoKrom®, I use it much more often, and I feel reassured. It's incredible to see this strip lighting up in the middle of the night".

Marie, Cyclist on the Pessac bike path
Lighted markers to encourage night-time cycling
By improving cyclists' routes and reassuring them, some of these paths will be used again. The use of illuminated markers reassures cyclists in terms of both practicability and safety.
Night-time riding, particularly in isolated areas, will be encouraged. Cyclists will be able to reclaim areas dedicated to soft mobility that had been set aside for lack of visibility. Rather than travelling on the road, where the risk of accidents is higher, cyclists will be able to navigate peacefully on a perfectly safe territory.

Before-After our luminous painting LuminoKrom® on the Namur cycle lane – Belgium
For more information, discover our offer for bike area.